I spend a lot of time in the laundry room. A LOT of time. There are five of us in this crazy home...2 teenagers and a 10 year old little boy. Those three create 2x more laundry than my husband or I. So needless to say the laundry is always going. A couple of months ago I decided that the laundry room needed a little sprucing up. I showed you my ideas
here
in this post. And then my amazing hubby made me these
laundry pedestals.
Seriously...these were a game changer when it came to laundry in my home.
Because I spend so much time in my laundry room I decided that I wanted some art on the walls for me to gaze at I spend hours folding socks. I adore this saying from
A Pop of Pretty.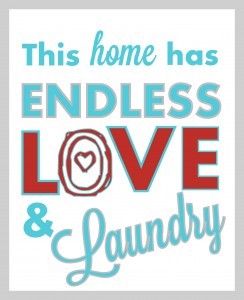 That saying fits house to a "T". But I decided to tweak it a little to fit my taste. Everybody knows that I have a slight obsession with chalkboards. So why not paint the canvas with chalkboard paint?
Here is my final version:
It was super easy to make. (Unfortunately I didn't take pictures while I made my sign, but my sister-in-law wanted a sign for her laundry so I took pictures then.)
First you print the words out using your computer. Then figure out where you want them on your canvas.
Then I rubbed pencil on the back of the cut out words.
Trace around the words, pressing firmly with your pencil. This should leave a pencil tracing on the canvas.
Then you fill in the traced words with paint, or marker or whatever it is you are planning on using. I used paint.
I then outlined the letters and filled in the heart. Here is the final product:
She was very happy with her sign. As am I with my sign.
Here is a picture of mine hanging in it's spot in my laundry room. (I guess you get a sneak peak of my new board and batten too!)
I LOVE it! It explains my life perfectly.
I'm liking up at:
Sand and Sisal: Inspire me Monday
Home Stories A to Z:Tutorials and Tip Links Party
A Bowl Full of Lemons: One Project at a Time
The Happy Housie: Work it Wednesda
y
Your Turn to Shine Link Party
Living Well Spending Less: Thrifty Thursday
Blue I Style: The Creative Circle
Tatertots and Jello: Link Party Palooz
a